Asesoramiento psicológico en español
Therapy at WePractice Zurich in Spanish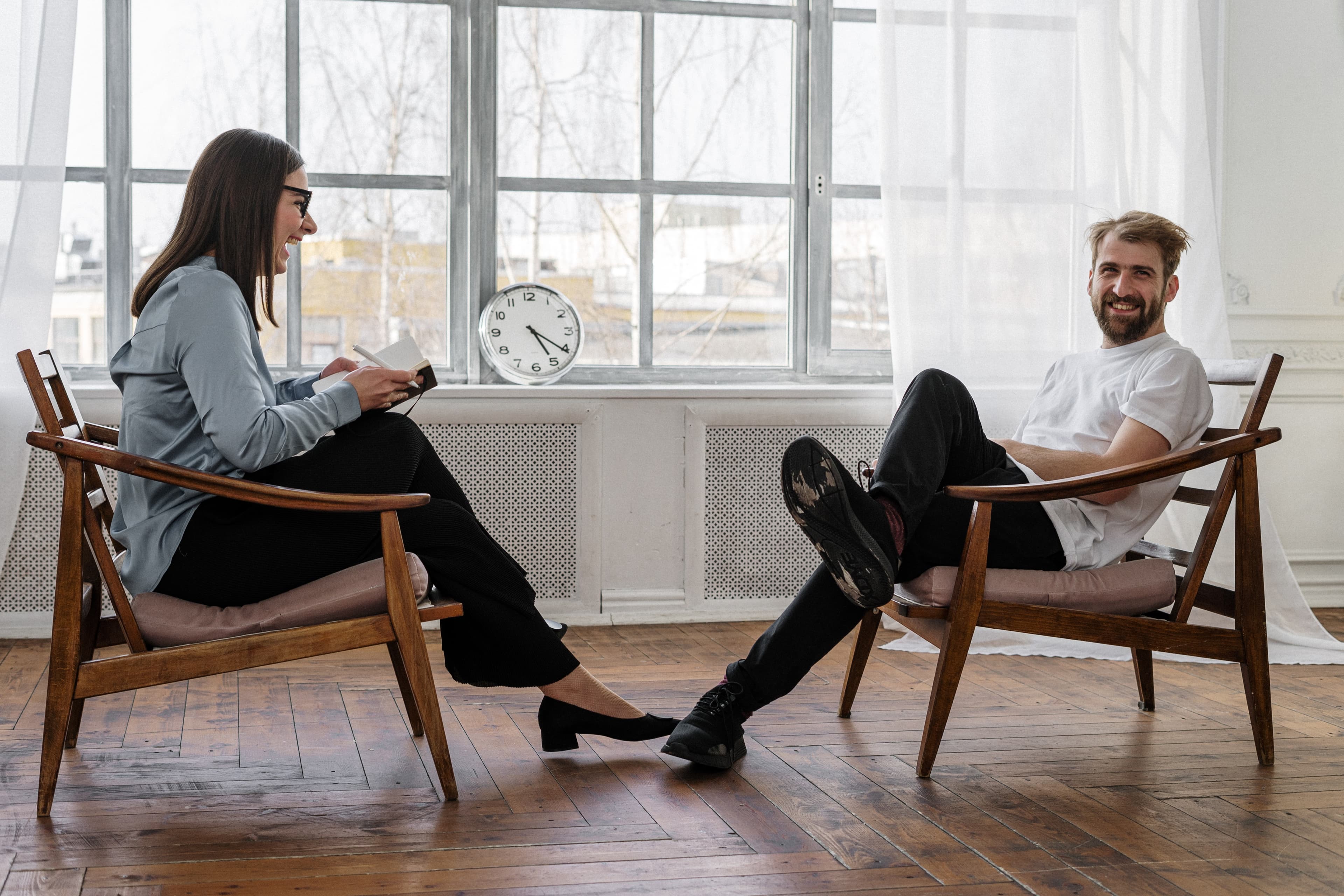 Our psychologists at WePractice offer therapeutic counseling in Spanish for children, adolescents and adults, as well as for couples and families. Whether face-to-face or by videoconference, if you are experiencing psychological distress such as anxiety, loneliness, depression, grief, trauma, or facing relational conflicts, work difficulties or migration stress, we can recommend one of our therapists. **Book a free telephone interview with one of our Spanish-speaking psychologists here**.
In the heart of Zurich, Stadelhofen, WePractice opens its doors to an avant-garde and creative space, an intimate atmosphere of privacy, security and comfort, to provide you with adequate therapeutic help.
Whether you are an expatriate or a resident: is Spanish your mother tongue? Are you looking for psychological support? Many people find it difficult to talk about their psychological difficulties in a language that, although fluent, is not their mother tongue. Expressing ourselves in our native language automatically connects us with our emotional world and makes us feel better understood, accompanied and, therefore, greatly facilitates the therapeutic process.
As psychologists specialized in a wide range of therapeutic techniques, we are committed to your mental health and your current problems. You will find yourself in a professional, welcoming environment that is close to your needs.
Couples therapy
Couples therapy is about overcoming acute or chronic conflicts within the relationship. The objective is to strengthen and renew the relationship through empathic, effective and non-violent communication techniques. When conflicts and relational patterns threaten harmony and the possibility of continuing to share life together, couples therapy can be of great help. Conflicts may be based on/caused by unmet needs such as not feeling loved, understood or sexually satisfied.
Therapy with children and adolescents
Therapy with children always includes the family nucleus in its treatment. Although the problem is focused on the child, it is essential to accompany the parents to strengthen family ties and refocus the situation, so that they can also better help the child.
Therapy with adolescents may or may not include the parents, depending on the problem and the child's needs.
In both cases, psychological counseling can help in cases of ADHD, bullying, traumatic situations, adjustment problems or difficulties at school, depression, body acceptance, eating disorders, etc.
EMDR (Eye movement desensitization and reprocessing).
EMDR is endorsed by the World Health Organization and the International Clinical Guidelines for the treatment of trauma, and its application is being extended to various pathologies and non-clinical situations.
Throughout life we encounter events or experiences that shake our existence. These episodes can become fixed in the form of irrational beliefs, negative emotions, as well as symptoms such as anxiety, fear, nightmares or memories that our brain cannot digest. All this undermines our self-esteem, self-confidence and self-definition. In EMDR therapy we talk about traumas ("t": relational) as well as Traumas ("T": accidents, catastrophes, diseases). With this therapy we are able to access the information stored in a dysfunctional way and it is processed until a resolution is achieved. The important thing is to access those shocking memories or identify those life events that have contributed to the symptomatology you present, thus eliminating the trauma, and the symptoms disappear.
Gestalt
Gestalt Therapy, in addition to treating specific problems or pathologies, has as its goal the awareness, and the increase and development of human potential. In this therapy, the individual is responsible for his or her own actions and consequences, for his or her life. We are not isolated organs, there is an interdependence with the world. The human organism is seen as an active being, subject to stimuli found in the environment.
This "realization" that we determine ourselves
that we determine ourselves appears ONLY in the "here-and-now". The objective of this therapy is to accompany the client, offering him/her strategies, so that he/she can solve his/her current problems and those that may arise.
problems and those that may arise in the future.
Mindfulness "mindfulness
With the practice of Mindfulness we become aware of the present moment, as it reveals itself to us. Focusing our attention on our thoughts, emotions, body sensations, breathing or the environment around us (sounds, smells, temperature, etc.), without judging, without interpreting, without justifying, we will understand the "tricks" of the mind. Becoming aware of this, we will have a free path to differentiate the real from the imaginary, thus freeing us from unnecessary suffering (fears and anxieties).
This will improve our overall health. In addition, we will achieve a greater capacity of concentration and attention which allows us to be more efficient in the accomplishment of tasks. There is ample scientific evidence, from the most prestigious universities in the world such as Massachusetts, Cambridge, Michigan, Harvard, Yale, etc., that these techniques help to reduce self-criticism, stress, anxiety, fears, pain, insomnia, grief, physical illnesses, while improving self-efficacy, self-concept, concentration, good sleep, social relationships and a long list of qualities.
Book a session in Spanish
To make an appointment with your therapist, you can easily request a therapy session using the form. Our therapist will contact you personally within one working day.